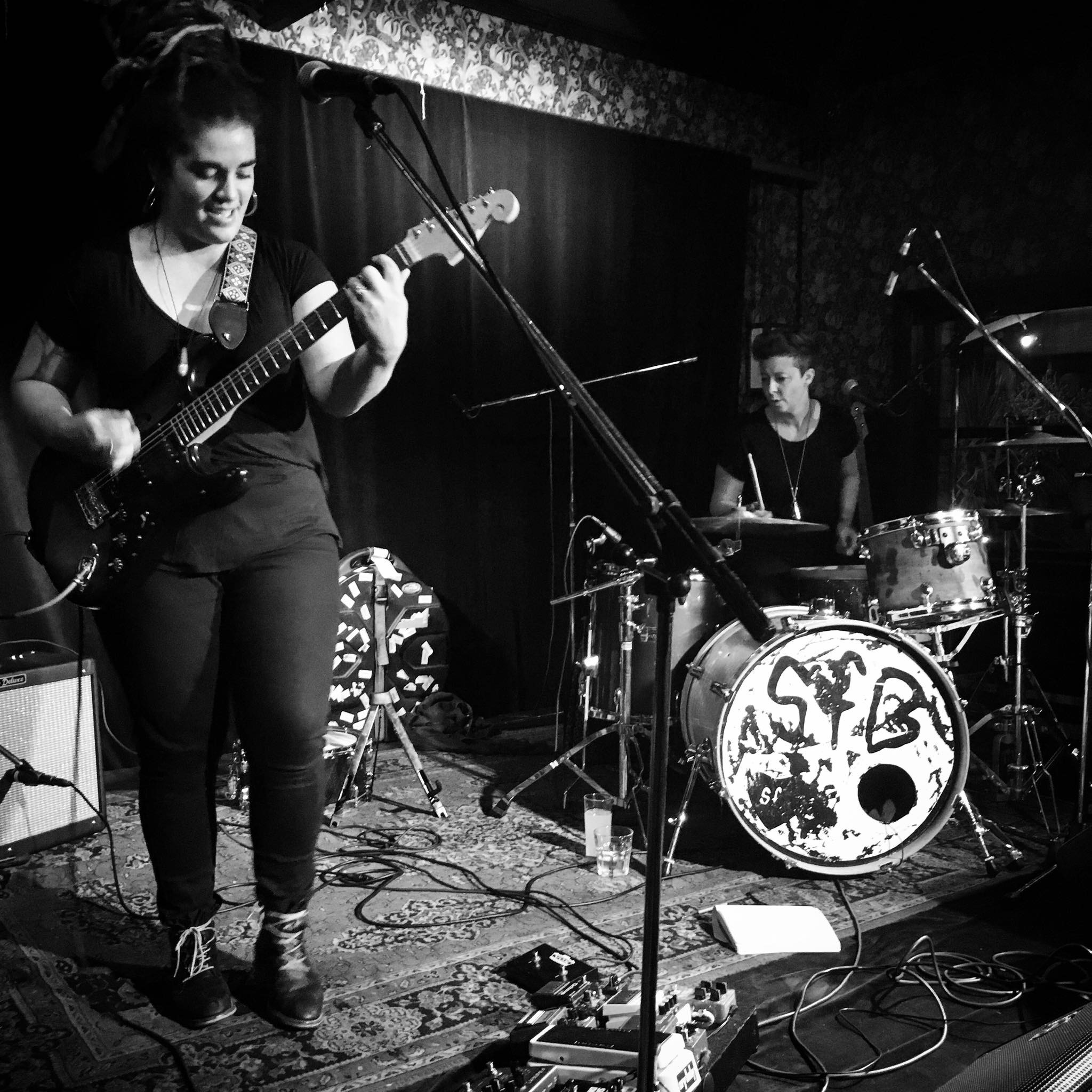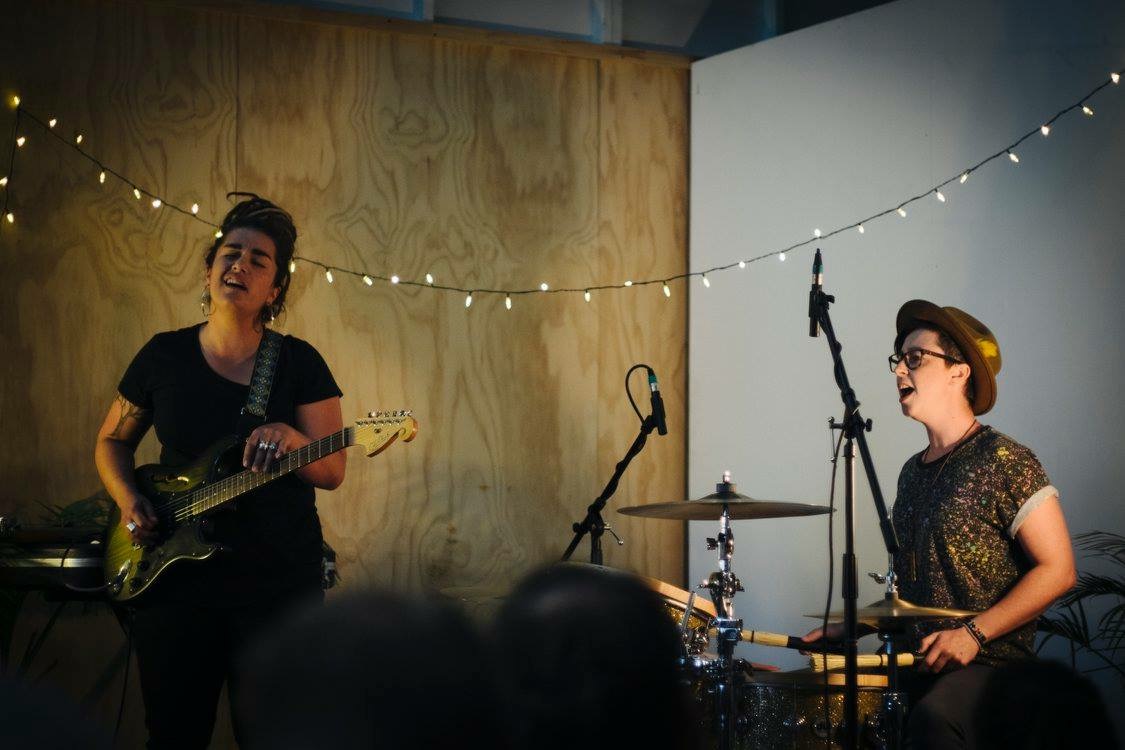 It's easy to forget that This Way North is a two-piece band. With Cat Leahy on drums and Leisha Jungalwalla wailing on her electric guitar, the duo create a uniquely full, expansive sound that leaves the audience stunned.
Hailing from Australia, ironically they first met in northern Canada at the renowned British Columbian ArtsWells Festival. Realizing they lived 500m away from each other in Melbourne, they made plans to jam back home and This Way North was born.
2018 saw the release of the duo's second EP, recorded in Toronto with Canadian producer Derek Downham (Eagles of Death Metal, Broken Social Scene, Holy F*ck). The EP is a six-song collection that showcases the band's evolution from the rootsy rock of 2016's EP to a new realm of luscious, groove-laden, harmony driven alt-pop and synth-rock.
Currently of no fixed address, Cat and Leisha are enjoying making a home for themselves on the road and the stage. Whether in a local dive bar or at a national festival, This Way North bring more passion and energy than a 10-piece band, drumming up a contagious euphoria.
The past two years have been huge for the duo, since they made the decision to concentrate on playing music full time they have added over 200 live shows across Australia, New Zealand and Canada to their ever-expanding resume. This Way North have brought their magic to audiences from the Yukon to Iqaluit, Nunavut to Haida Gwaii, across Australia's sweeping central desert and down to the geysers of Rotorua New Zealand.
With their reputation for powerful live shows and great radio support back home, This Way North bring their love affair with Canada, and big sound, inviting you to turn up the volume and let loose.
FESTIVALS PLAYED
Queenscliff Music Festival, Australia
Mullum Music festival, Australia
Wintermoon Festival Australia
Candelo Village Festival, Australia
By The Banks Festival, Australia
Ness Creek Music Festival, Canada
Majors Creek Festival, NSW Australia
Dawson City Music Festival YK, Canada
Wide Open Space Festival NT, Australia
Atmosphere Gathering BC, Canada
Happy Wanderer Festival, VIC Australia
Nannup, WA, Australia
Swagger VIC, Australia
ArtsWells BC, Canada
Moomba VIC, Australia
Bendigo Blues & Roots Festival, VIC Australia
Paddock Sessions, NSW Australia
Folk Rhythm & Life, VIC Australia
Desert Daze Festival, BC Canada
Sasquatch Festival, AB Canada
Sydney Road Street Party, VIC Australia
By The Bay Festival, VIC Australia
Ballarat Beer Festival, VIC Australia
Wollombi Music Festival, VIC Australia
Night Jar Festival, VIC Australia
Mount Beauty Music Festival, VIC Australia

QUOTES
"What a f**king great song!!!!! Super catchy. I'm such an 80's gal it reminds me of an early Split Enz song." - Kate Ceberano
"Cat and Leisha go from strength to strength with this one, refining what they already do so well. I can't wait to see what they pull out next, don't miss these two live" - Taylah Strano (RTR FM)

"Those rumbling drums, that sneaky little slide guitar line... the way it all comes together to become a lush, powerful piece of music that's so easy to get caught up in." - Double J Radio

"This Way North brought the 'power duo' concept to another level. Groove driven, their vocal blend crossed genres and kept the audience genuinely engaged for the entire set. A great festival act which would be a great add to any event where quality music is the central theme." - Atmosphere Gathering, Canada

"Powerful drumming and lush guitar work, This Way North's live show is high energy, groovin'-roots. With their big sound it's easy to forgot it's just the two of them onstage." - Fremantle Arts Centre

Vol. 2 is a perfect example of growth and perfectly highlights a band that has grasped a wealth of genres seamlessly. The sound this band emits make you forget this is a two-piece, such is their raw energy and talent. Do yourself a favour and check it out. - Forte Mag

"Fantastic rocking debut EP from This Way North. It's just a taste that leaves you hungry for more" - Crispi, PBS FM
CONTACT
Bookings
Cat Leahy
Cat@thebookingstable.com
+61 438 202 565
PUBLICITY
danae@littlegiantagency.com.au
+61409 169 551
www.littlegiantagency.com.au